Chimi's Mexican Food
The Legend Continues…
Chimi's Mexican Food
The Legend Continues…
Come join us and discover the great taste and quality freshness of real Mexican food. – Brandon Fischer (owner)
Chimi's has been a Tulsa Mexican Food tradition since 1983, and I have great memories of my family eating meals and enjoying quality time here as a child. It is a privilege to be able to share my love for fresh food and memorable moments with your family and friends. At Chimi's we pride ourselves on making fresh and delicious food from raw ingredients everyday. We pride ourselves on not being just another restaurant. We are a locally owned business that cares about our customers and staff. Chimi's would not be here today without the continued support from all of you! Thank you for making Chimi's a part of your memories!
Check in on Facebook or Instagram on your phone next time you are at any of our three locations at Chimi's, show it to the server and receive a FREE dessert with your purchase. So simple! Try one of our classic desserts, Sopapillas, Root Beer Float and Hot Fudge Brownie! We also have delicious new desserts to try too! Creme Brulee with a Mexican twist and our Flan now have a permanent spot on our menu! Check in next time you come in and try a dessert on us!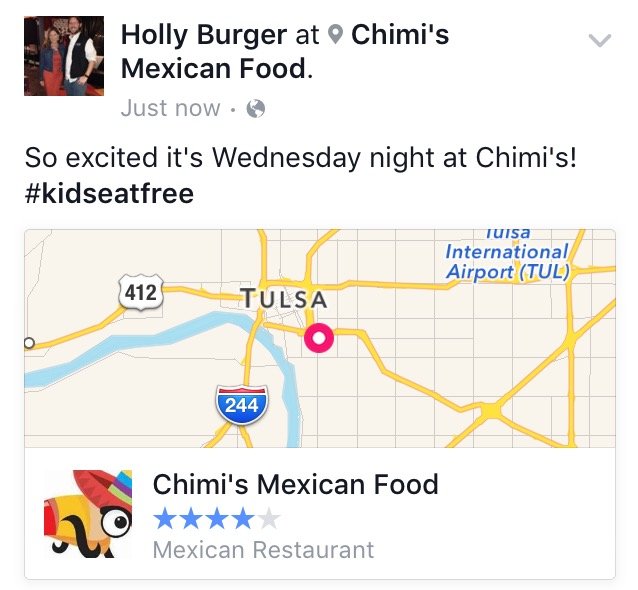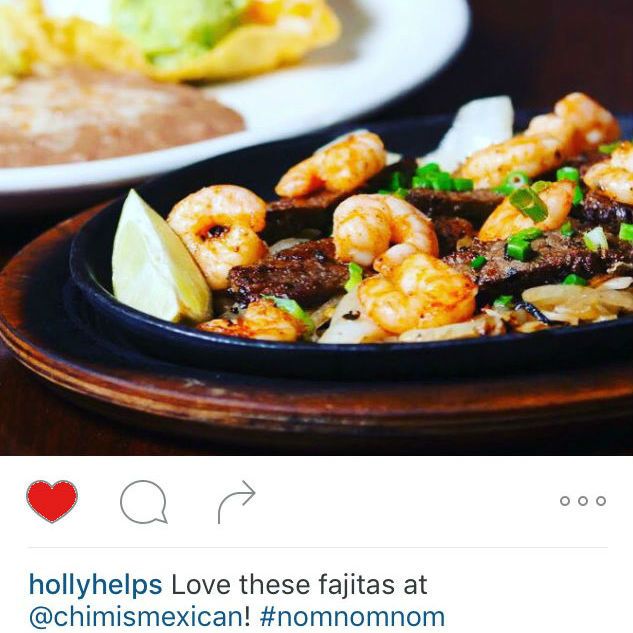 Cherry Street - 1304 East 15th Street
918-587-4411
Midtown - 5320 South Harvard Avenue
918-749-7755
South - 6709 East 81st Street
918-960-2723
Cherry Street
Sunday – Thursday 11AM to 9:30PM
Friday – Saturday 11AM to 10:30PM
Sheridan and Harvard
Sunday – Thursday 11AM to 9PM
Friday – Saturday 11AM to 10PM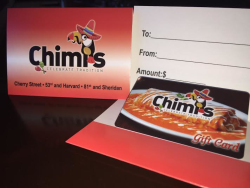 If you have the gift card, scan the QR code on the back or use the form below to check your balance.