Available Monday – Friday from 11:00 AM – 4:00 PM
What are you in the mood for today at Chimi's? Soup on a chilly fall day or a crisp salad on a hot summer day? Maybe more of an authentic Mexican lunch? We have the BEST fajitas in town, steak, chicken or veggies, your choice! Our enchiladas or chimichangas are tasty traditional favorites too! Or maybe you want to try something new? Our Wet Burrito, Chimi's Bowl and our Chile Relleno are a hit with everyone that tries it!
Tried this place for the first time tonight based on a recommendation. This place was delicious! The 
white queso
 is seasoned just right, the yellow queso has a hint of bacon that made it interesting and delicious!
Our food came out hot and was yummy! The 
margarita
 was delicious, and our service was great!! We had Ashley as our waitress and she was phenomenal!
Can't say enough good things about it! We will definitely be back next time we are in Tulsa! You guys should expand and build in OKC!
Cherry Street - 1304 East 15th Street
918-587-4411
Midtown - 5320 South Harvard Avenue
918-749-7755
South - 6709 East 81st Street
918-960-2723
Cherry Street
Sunday – Thursday 11AM to 9:30PM
Friday – Saturday 11AM to 10:30PM
Sheridan and Harvard
Sunday – Thursday 11AM to 9PM
Friday – Saturday 11AM to 10PM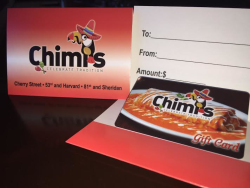 If you have the gift card, scan the QR code on the back or use the form below to check your balance.